Best Gift Ideas for Travelers: Wooden World Maps
Why Wooden Wall Maps are the Perfect Gifts for Travelers
Traveling is more than just visiting new places; it's about experiencing new cultures, tasting different cuisines, and making memories that last a lifetime. Traveling is a passion, a way of life for many. For many, traveling is not just a hobby, but the way they live. For those with a scorching passion for travel, picking the right present can be a daunting experience. Enter the 3D Multilayered Wooden World and Country maps from ColorfullWorlds – a unique, stylish, and meaningful gift that every traveler will cherish.
1. A Personalized Travel Diary
Imagine a world map, intricately carved out of wood, showcasing every country, state, and capital. Every a new place is visited, it can be marked on the map, creating a personalized travel diary in the process. Over time, this map becomes a permanent reminder of all the adventures, stories, and memories from around the world.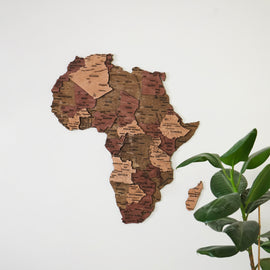 2. A Work of Fine Art
Wooden wall maps are not just functional; they are a work of art. The multilayered design, combined with the natural grain of the wood, makes it a stunning piece of décor. It is bound to spark colorful conversations whether it is put on the walls of a living room, bedroom, or office.
3. A Real-time Log of Visits
One of the unique features of wooden wall maps is their ability to serve as a real-time log of places visited. Travelers can use pins, stickers, photos, or even write notes directly on the map, making it a dynamic record of their journeys. It's a tangible way to reminisce about past trips and share stories with friends and family.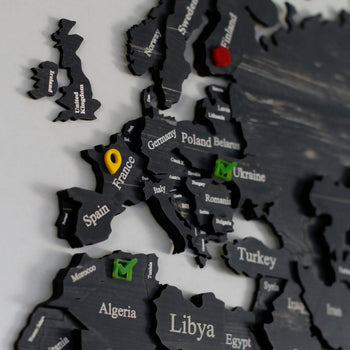 4. A Planning Ornament for Future Travels
Beyond just recording past travels, wooden wall maps can be an invaluable tool for planning future adventures. With the entire world laid out in front of them, travelers can visualize potential destinations, plot routes, and even dream about places they hope to visit someday. It's an interactive way to fuel wanderlust and keep the spirit of travel alive.
5. A Gift with a Personal Touch
Every person is unique, and so are their journeys. A wooden wall map allows for personalization, whether it's by marking visited places, adding notes, or even painting certain regions. It's a present that can be customized to reflect the recipient's unique journey, adding to its significance.
In closing, for those who have been bitten by the notorious travel bug, a wooden wall map is more than just a decorative piece. It's a reflection of their journey, their passion, and their dreams. It's a present that narrates a tale; a tale of journeys, encounters, and cherished moments. So, the next time you're searching for the perfect gift for that traveler in your life, consider a wooden wall map. It's a gift they'll treasure forever.
3D Wooden Grey Tones World Map Wall Art Multilayered - Multicolor

$136.00 $92.90

3D Wooden
Multilayered
Africa
Map

$93.00 $65.00

3D Wooden Multilayered World Map with States and Capitals v2 Tuana

$156.50 $93.90

3D Wooden Multilayered
USA Map

$70.00 $49.00

Framed Wooden Multilayered Wall Map Of UK

$127.00 $89.00

Framed Multilayered Wooden Wall Map Of Canada

$127.00 $89.00
---